FGSD-002 Smoke Sensor
FIBARO - SMOKE DETECTOR Z-WAVE PLUS FGSD-002 (FIBARO SMOKE SENSOR)
With soft lines, a polished surface, and a small size, this smoke detector enables its RGB multicolor LEDs a built-in siren to alert you in the event of a threat. The large size grill enables the smallest amount of smoke to be detected and obtain a rapid reaction. It will easily find its place in your home to ensure the safety of the whole family.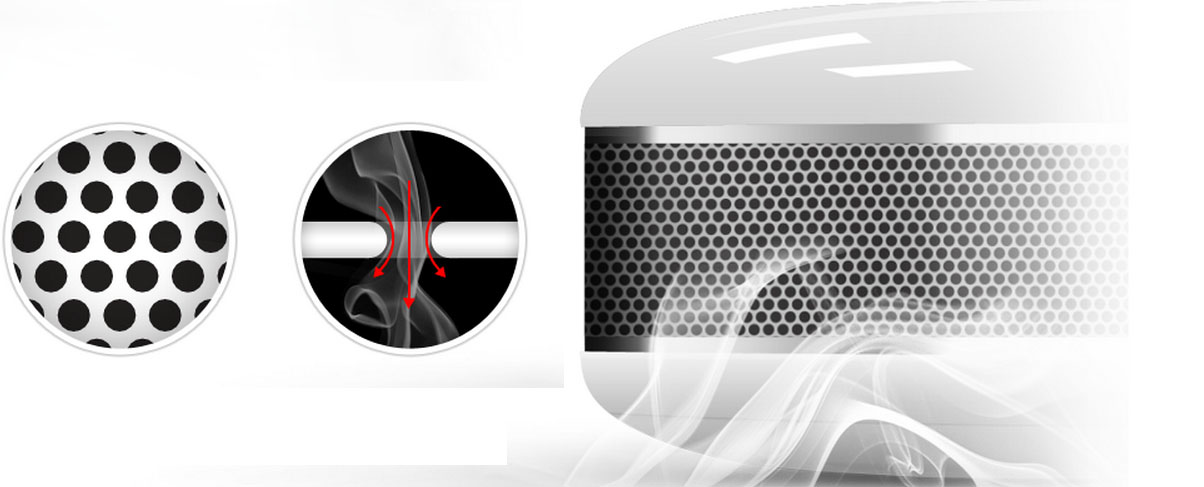 The Fibaro FGSD-002 smoke detector is an autonomous smoke sensor and alarm which complies with the EN 14604:2005 standard. Although autonomous, it also communicates thanks to its Z-Wave Plus technology.
Certain materials burn without producing smoke. This is why the Fibaro engineers decided to include additional protection in their smoke detectors in the form of a temperature sensor. If the amount of smoke is not sufficient to trigger the alarm, the unit will still be able to detect a threat by detecting a rapid change in temperature caused by the fire. A rapid change in temperature or an increase up to 54°C is sufficient for the smoke sensor to detect a threat and make those living in the house aware of it. Only this type of smoke sensor provides such a high level of effectiveness, regardless of what is burning.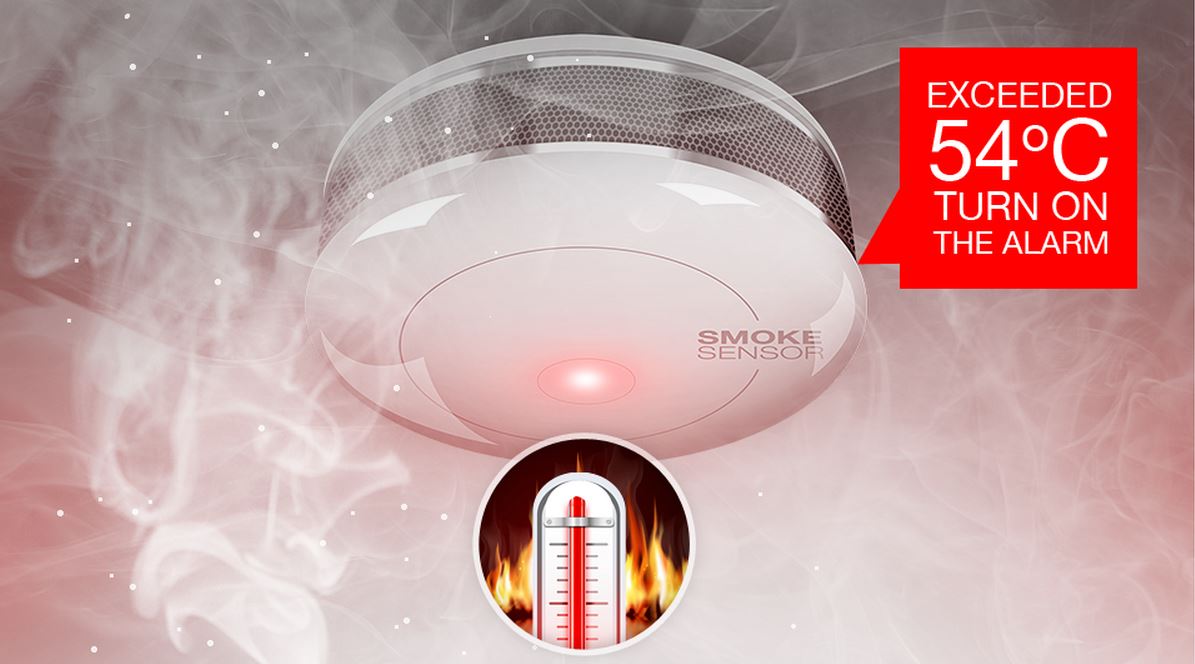 The sensitivity of the sensor can be adjusted depending on where it is installed. In the kitchen, an overly sensitive sensor could trigger the alarm simply because you are frying meat, which is why in certain locations it needs to be less sensitive, an advantage that helps avoid irritating false alarms. In other rooms, where the presence of smoke is less likely under normal conditions, the sensor must be set to the maximum sensitivity in order to provide the best possible protection.
A 'black box' integrated into the smoke detector records information concerning the levels of smoke and temperature. Whether the alarm is armed or not, the sensor monitors the level of smoke and periodically sends information to the primary controller. Now, you will be able to detect even the smallest amount of cigarette smoke.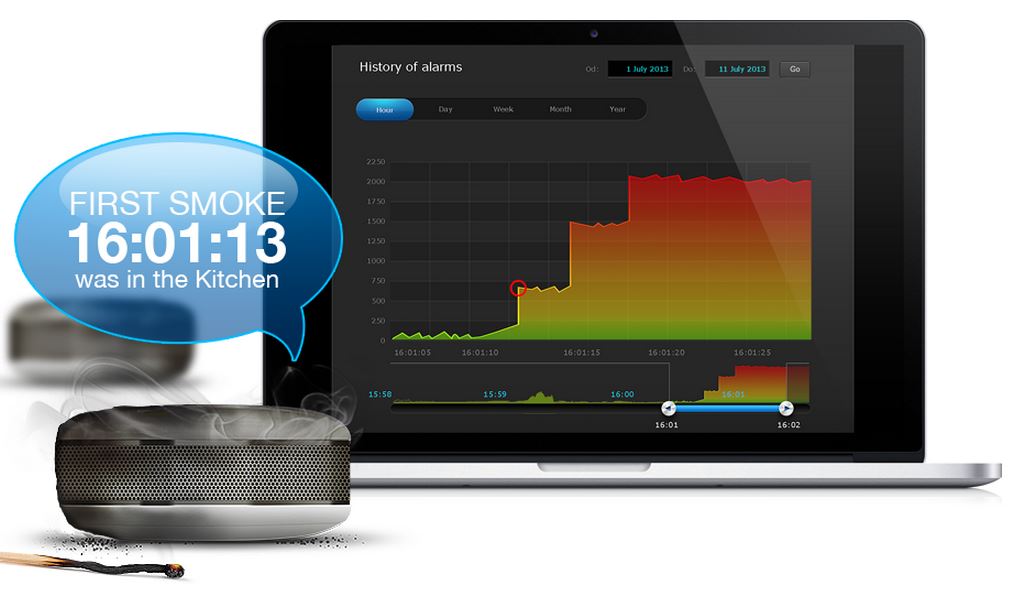 For your safety, and to ensure that the smoke detector works properly, it is equipped with a Z-Wave network range tester. Communication via the Z-Wave wireless mesh network enables you to stay connected with the controller over a long distance and, thanks to its indirect connectivity, using other Z-Wave modules. The built-in LED will enable you to easily check if the sensor has a good range and is able to communicate with the home automation controller or whether it requires moving to a different location.
FEATURES
Z-Wave smoke detector
It can be used with or without a home automation controller.
Battery operated
Sensitivity adjustable sensor (3 levels)
Protection from tampering
Alarm signal by sound, LED light and Z-Wave signal
Fire detection by air temperature measurement
Automatic efficiency test, carried out every 5 seconds
Automatic efficiency test, carried out every 5 seconds
Built-in 'Black box' - the sensor reports and records temperature and smoke data
Integrated Z-Wave range tester  
Complies with EN 14604:2005
Z-Wave Plus compatible
Wireless update via the Fibaro Home Center 2 box
Easy installation - just install it in a place where there is a risk of fire 
TECHNICAL SPECIFICATIONS
Type of module: Z-Wave transmitter
Power supply: 3V CR123A Lithium battery
Battery life: 3 years
Frequency: 868.42 MHz
Transmission distance: 50m free field, 30m indoor
Dimensions: 65 x 28 mm (diameter x height)
Operational temperature: 0-55°C
Operational humidity: 0% - 93%
Measured temperature range: -20 to +100°C
Smoke sensitivity: 1st level - 1.20 +/-0.5% obs/m; 2nd level - 1.80 +/-0.5% obs/m; 3rd level - 2.80 +/-0.5% obs/m
Sound Level: 85dB at 3m
Measurement precision: 0.5°C (in a range of 0 to 55°C)
Standards: EMC 2004/108/EC and R&TTE 199/5/WE
Certifications: EN 14604:2005
---
We Also Recommend